SaaS Sales Forecasting: Everything You Need to Know
Before we discuss SaaS sales forecasting and metrics it's crucial to recognize that they are part of a larger system, the Finance and Stakeholder Ecosystem. This ecosystem is like this picture of this diver over a reef. You see all the plants and the corals and the fish and everything working together. The ocean's health lies below the surface and your company's financial health is really no different.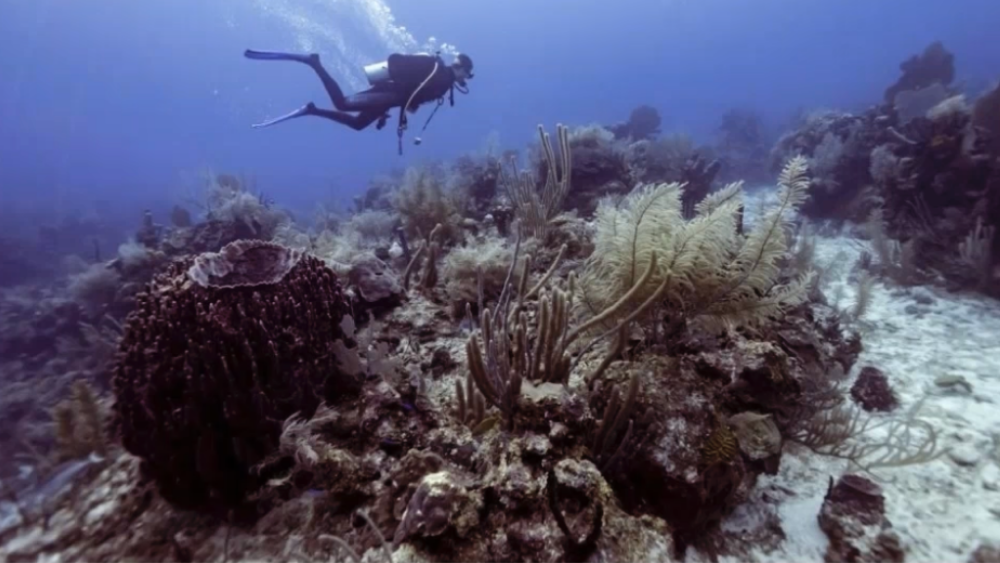 Your Finance and Stakeholder Ecosystem is like your company's reef. You want to make sure that it's healthy, everything is fitting together and working in harmony. That allows you to concentrate on what's really important to your business, which in my experience for SaaS startups is sales and cash. We refer to this as the Financial Core part of our Ecosystem.
Saas Financial Core
Accounting System
SaaS Metrics System
Budgeting and Forecasting System
SaaS accounting, metrics and sales forecasting are the parts of the Finance and Stakeholder Ecosystem that we call the financial core. This triad of the accounting, budgeting and SaaS metrics needs to be set up as a synergy so that they talk to each other. They need to be integrated in ways where it's either a click of button or an automatic sync. You don't want to be saying, "Well, our SaaS metric system says X, but accounting and finance says Y." And then people are scratching their heads as to why they're different.
If you take a look at the earth and how it's put together with its core, and then it's mantle, and then the crust, that's exactly how your financial core should be put together.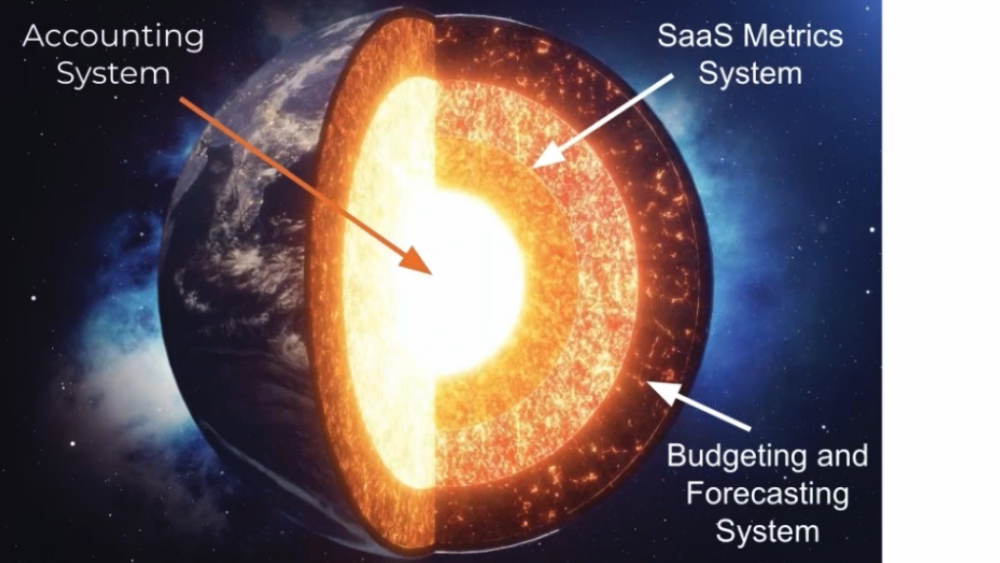 SaaS Accounting
Just like the earth's core, your accounting system lays at the center of everything. It is the single most important piece you should have set up right.
A Standard B2B SaaS cost structure financial statement includes:
Bookings vs. Recognized Revenue
Gross Margin by Income Type
Departmental Expense
Net Operating Income
Learn More About Saas Accounting:
A Guide to SaaS Accounting for Startups
SaaS Metrics System
Your SaaS metric system includes all the reporting coming out of the accounting transactions. This relies on an efficient accounting system producing data on how your company is doing.  SaaS Metrics are not only used for the accounting, but also for your growth. Are you losing customers quickly? Are you retaining them? If you're retaining them, are you growing them? These are things that are not going to be available in your accounting system, or in your budgeting and forecasting, so you will need a system in place for all your SaaS metrics.
SaaS Forecasting and Budgeting System
If you go in front of investors or a board they will not only need to know your current data but what your financial picture looks like in the future.  Sooner or later you will need a budgeting and forecasting system.
Not having a budgeting and forecasting system is like driving your car at night without the headlights. You may be alright, as long as you're on a straight highway and there's nothing in the way. But you need to know what's coming. You could do what I call MBA, which is management by bank account and run your company that way up to a point, but sooner or later, something's going to come out of nowhere. You're going to be surprised and it's probably not going to be pleasant.
Anthony Nitsos, Founder and Fractional CFO
Anthony Nitsos elevates your financial strategy to meet challenges and drive your company value. Working with pre-seed to Series B stage SaaS startups, he ensures that founders have reliable metrics and a solid understanding of the true economics of their business to maximize valuation. He optimizes financial operations, sales operations, human resources operations, and risk management systems. He's worked with various startups, including two unicorn exits.
Share This Story, Choose Your Platform!