SaaS Consultant Helps FinTech App Scale ARR and Streamline Finance Ops
This was a FinTech application company that we partnered with as a SaaS consultant. In the before stage the CEO was spending 40% of their time getting the numbers. You can imagine how aggravating that is when you're not spending time and attention on sales and development.
This specific case wasn't so much finance and ecosystem related.  It was pricing which is one of the things we analyze when working as a consultant for a SaaS or FinTech Company.
Before Partnering with SaaS Gurus as a Consultant
Fifty percent of the FinTech company's revenue was from services. They had Annual Recurring Revenue (ARR), but half of their total revenue was coming from implementation fees.  Now if you know anything about valuations in SaaS, once you reach a certain point, those valuations are heavily weighted towards your ARR and almost no valuation is placed on services. So this type of revenue could hurt the company going forward if it wasn't remedied.
This FinTech company had absolutely no SaaS Key Performance Indicators (KPIs).  They only had a Profit and Loss statement. So they didn't know what their Customer Acquisition Cost (CAC) or ARR was. They didn't know what their growth was. It was all just guesswork.
Their cap table was on Excel and it took literally days to update. People weren't getting their option documents to them in time and they weren't being updated in the cap table.
The actual versus budget took weeks to get. It took them too long to close the month. Then, because the budgeting tool didn't reflect the accounting system, somebody had to translate the two together every month and make sure that they fit. This required guesswork in some cases.
So you can imagine how much time is wasted operating this way. Then of course, you have a frustrated board because they're trying for transparency and they're not getting it.
After SaaS Consulting Services

After partnering with SaaS Gurus, the numbers simply come to the Fintech company's CEO now. She went from spending 40% of her time to literally zero time on getting the numbers.
Service revenue is now down to 15% of total revenue. So they have a nice, healthy ratio of ARR to service revenue and valuations have increased accordingly.
Their SaaS KPI dashboard is produced each month for the board. It gets out to them usually within a week after the month end closed. Board members know exactly what happened in the month and they have the data in a nice digestible and consumable format. They no longer have to sit and sort through financial statements to figure out what it is that they want.
Cap tables are now on Carta, another one of the strategic partners we work with. Carta is fabulous for managing cap tables.
Then actual versus budget plus projection is available to the board usually within five to 10 days after month end close.
In the end, this is the tech stack that we put together for them by name.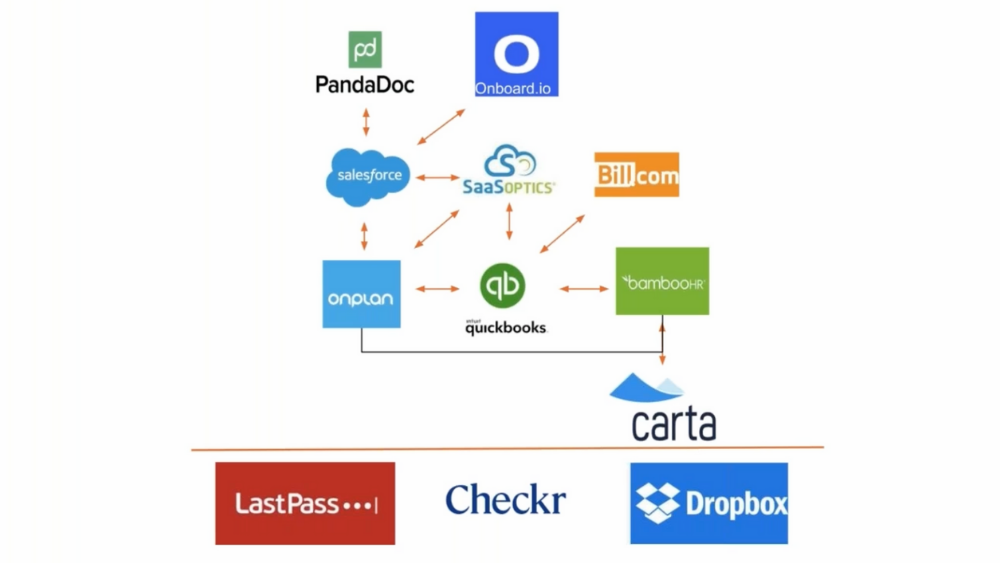 All of these systems integrate and talk to each other. The arrows represent what systems are talking back and forth. Then underneath it all, we have LastPass for the security, Checkr for background checks and Dropbox for document management.
This is a real world tech stack, a real case solution and a real result that we were able to achieve for this FinTech App company.
Anthony Nitsos, Founder and Fractional CFO
Anthony Nitsos elevates your financial strategy to meet challenges and drive your company value. Working with pre-seed to Series B stage SaaS startups, he ensures that founders have reliable metrics and a solid understanding of the true economics of their business to maximize valuation. He optimizes financial operations, sales operations, human resources operations, and risk management systems. He's worked with various startups, including two unicorn exits.
Share This Story, Choose Your Platform!